Dr. Greg Gaines Medical Director & Owner
 of Gaines Plastic Surgery
Dr. Gaines is a board-certified plastic surgeon, providing a comprehensive range of cosmetic treatments. He specializes in breast augmentation, tummy tucks, facelifts, fat grafts, and hair restoration, with offices conveniently located under the same roof as Pure Aesthetics. Committed to the doctor-patient relationship, Dr. Gaines and his staff go the extra mile to ensure each patient receives personalized care and thoroughly understands the benefits and risks of a procedure. Contact our office today to learn more about the services we offer. For more information please visit Gainesvilleplastic.com.
Alison Walker Practice Manager
Alison is a Gainesville native and received her bachelor's degree in business, master's in mass communications and law degree from the University of Florida.  Prior to joining the Pure Aesthetics team, she had over 16 years of experience as an attorney and managing a local law firm and she looks forward to serving the same community that she loves in a new and different capacity with Pure.  With a passion for promoting individual self-worth and empowering others to feel great about themselves, Alison devotes her time to constantly keep up with changing technology, learning new ways to offer the most advanced services while forming long lasting relationships with Pure clients.  Alison enjoys supporting the Pure team and their superior ability to provide exceptional services and have a positive influence on the members of our community.
Mary Hazan PA-C
Mary is a board certified Physician Assistant by the National Commission on Certification of Physician Assistants. She received a Bachelor of Science degree in Physician Assistant Studies from Nova Southeastern in 2001 and a Bachelor of Science degree in Nutrition from UF in 1997. Mary has completed extensive advanced training in areas such as laser skin care, laser hair removal, dermal fillers, Botox and Dysport injections, chemical peels, and sclerotherapy. She has over eight years of experience with the Plastics and Vascular surgeons at UF Health, and over three years of experience at Accent Physicians.
Tracy Giordano APRN
Tracy is a board certified Family Nurse Practitioner with the American Academy of Nurse Practitioners. She received her bachelors degree in nursing from the University of Florida in 2002 and worked in intensive care until 2007, when she received her masters degree in nursing from the University of Alabama at Birmingham. Prior to joining the Pure Aesthetics team, she had over 11 years of experience in advanced injectables and considerable training in lasers and skincare.
Katie Pratt APRN
Katie is a board certified Pediatric Nurse Practitioner with the Pediatric Nursing Certification Board. She received her bachelor's degree in nursing at the University of Florida in 2010 and worked in the pediatric intensive care unit until 2015,  when she received a dual master's degree in nursing in pediatric acute and primary care at the University of Alabama at Birmingham. Katie's love for aesthetics began to flourish as she realized just how important self care is for new mothers and women. This observation had such a positive reflection on the health of her patients and even in herself! Allowing self care can drastically change all aspects of one's overall health and well being. Katie is excited to join the experienced team of injectors at Pure Aesthetics.
Haley Ference Front Office Manager
Haley grew up in Alachua County and continues to call Gainesville her home. She graduated from Santa Fe College in 2019 with her Bachelor of Science in Management with a minor in Human Resources. She also has 5+ years of experience in the management and administrative field. Haley has big plans to continue her education in aesthetics to ensure your Pure experience is perfect in and out of the treatment room! With Haley's immense passion for the aesthetic industry and her continued education in business, you are sure to receive the best with your administrative experience.
Lindsey Monaghan CME, CCST, Licensed Aesthetician
Lindsey is a Gainesville native. She is a Licensed Aesthetician and provides the full spectrum of skincare services at Pure Aesthetics. Lindsey is also CoolSculpting Elite certified and received her Electrologist License from the Orlando Institute of Electrolysis in 2013. As a Licensed Aesthetician, certified Electrologist, Laser Hair Removal Specialist and CoolSculpting Elite provider, Lindsey ensures that her clients yield a unique and comfortable experience every time. With Lindsey's experience and knowledge, you will leave feeling educated, relaxed and reassured that you are in good hands.
Carly Vejraska Licensed Aesthetician
Carly Vejraska is a Gainesville native. She received her Aesthetics license from the Florida College of Natural Health in Orlando in 2018. As a certified Facial Specialist, Carly strives to deliver results and exceed her client's expectations with every treatment. She listens and advises using an educational approach to ensure that her clients reach their goals and feel comfortable in their skin.
Jordan Strack Licensed Aesthetician
Jordan has worked in the medical and aesthetic industries for over nine years. She brings an extensive background and knowledge in cosmetic procedures, services, and skin care products. She is a licensed aesthetician as well as a CoolSculpting Elite certified technician. Her passion for patient satisfaction is a perfect match for the professional, innovative, and future-minded culture at Pure.
Kelsey Cunningham LSO, Licensed Aesthetician
Kelsey grew up in Lake City, FL and now calls Gainesville her home. After graduating high school Kelsey moved to Tampa to attend the Beauty and Health Institute in pursuit of a career in Aesthetics. While in school, Kelsey became certified in a number of aesthetics treatments including, Microneedling, Advanced Microdermabrasion, and Dermaplaning. After graduating with her license in esthetics and electrology, Kelsey is now putting her passion and training to good use by helping clients reach their skin care goals.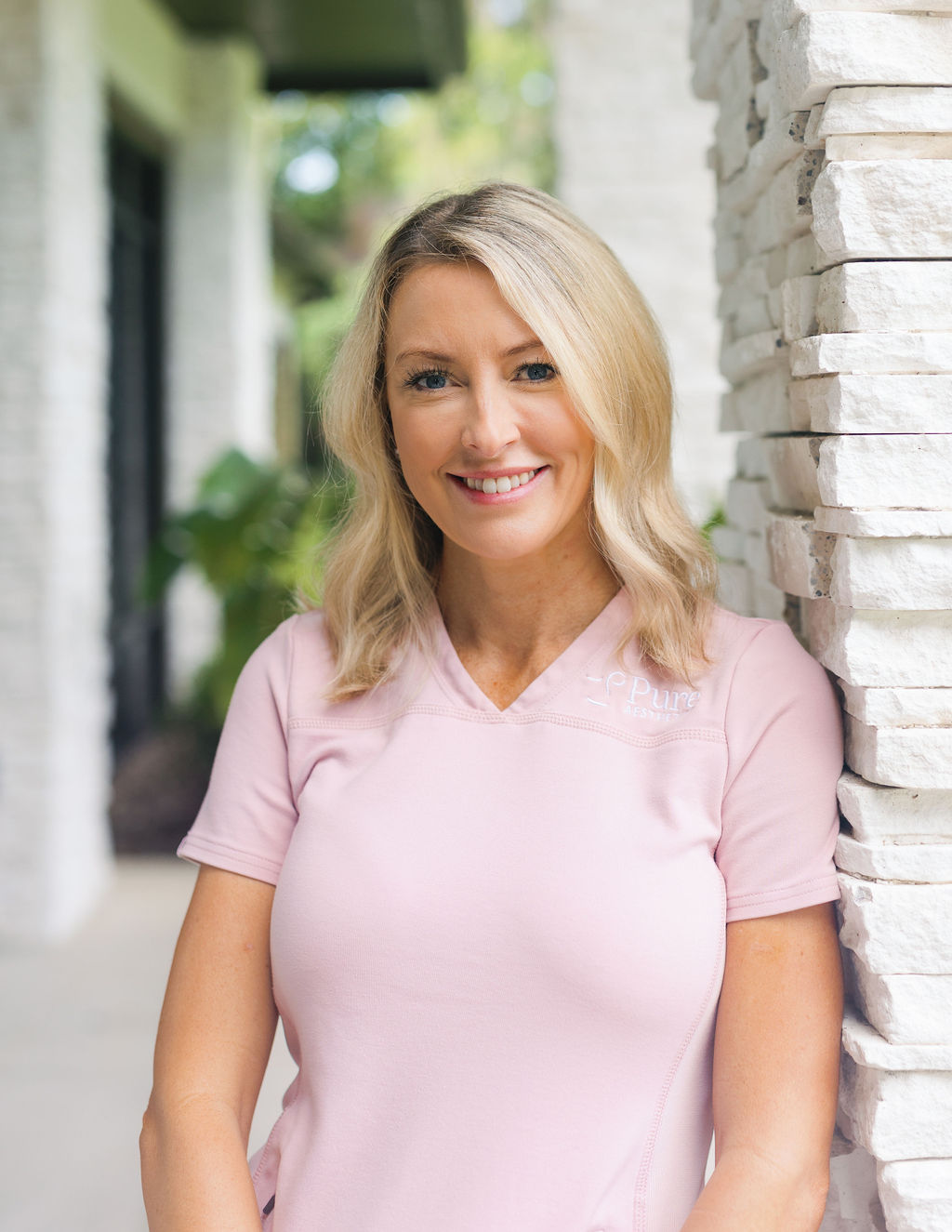 Alex Hollingsworth Licensed Aesthetician
Alex spent nine years as a Human Resources Manager. Her passion for Aesthetics lead her to Pure. She started at Pure as Client Coordinator and Front Office Manager. She quickly realized that she wanted to further her education in Aesthetics and became and Licensed Aesthetician and Coolsculpting Elite Provider. Alex ensures that her clients feel nurtured, educated and reach their skincare goals.
Ariel Etheridge Licensed Aesthetician
Ariel Etheridge is Florida born and raised, and has called Gainesville her home for the past 5 years. She has a fervent love for health and beauty, from the inside out. As a mom of two, Ariel has come to know the importance of prioritizing self-care, leading her into a career that allows her to empower others to do the same.  Ariel ensures that your time here at Pure Aesthetics is nothing short of perfection.
Courtney Bailey Client Coordinator
After soaking up more than a decade of knowledge and experience in the hospitality industry of busy Orlando, Courtney has returned to her hometown of Gainesville to be closer to her family and start a family of her own. She graduated from The University of Central Florida Rosen College of Hospitality with three degrees in Event Management, Hotels & Hospitality and Restaurant & Foodservice. Creating a customer experience of the utmost level of service that it makes the moment unforgettable has always been a passion of hers, along with decorating and throwing parties! She is thrilled to bring her event experience to Pure so stay tuned for the fun things coming soon!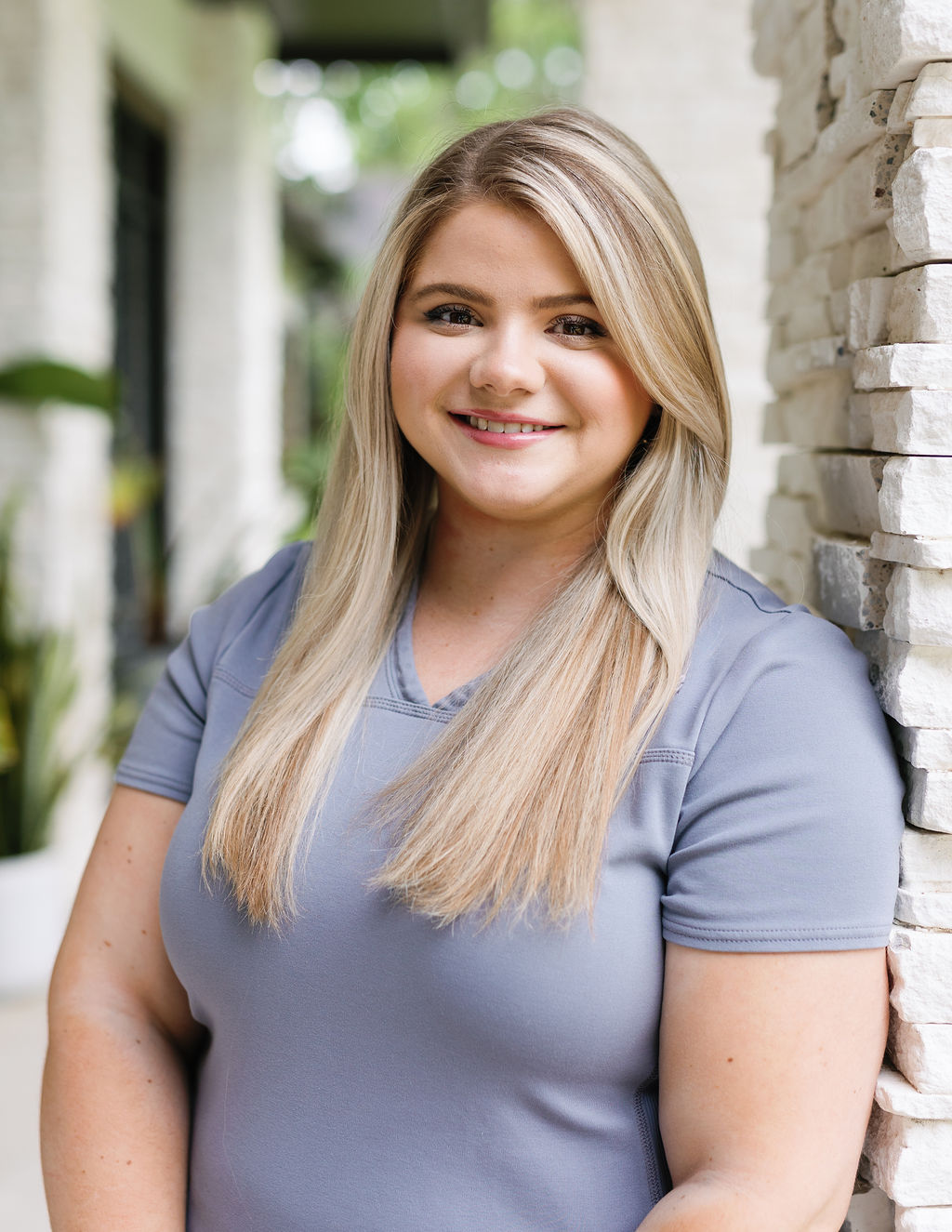 Maggie Page CLIENT COORDINATOR
Maggie grew up in Ocala Florida, but has lived in Gainesville for the last seven years. She has a background in customer service after six years of working at UF Health Shands. Maggie received her esthetician license in September of 2021 from the Florida Dermal Institute in Longwood, FL. She is very excited to continue her education at Pure and to further her knowledge and skills in order help clients feel comfortable and confident in their skin.
Kinsley Hollingsworth CLIENT COORDINATOR
Kinsley is passionate about positive client experiences and achieving client satisfaction. She plans to expand her knowledge of aesthetics and is working toward becoming a Surgical first assist in Plastic Surgery.
Sidney Karas CLIENT COORDINATOR

Sidney is a Gainesville native and is happy to continue to call Gainesville home. She is currently working towards her Bachelor of Science degree in Organizational Management and hopes to further her academic career by obtaining her Masters degree in Business Administration. Sidney has a background in customer service from multiple industries and enjoys providing individuals with the best service possible. She has a genuine passion for the aesthetics industry and is excited to grow her knowledge and experience with the Pure family!
Maddie Hewett Client Coordinator
Maddie is a Gainesville native with experience in customer service. She is dedicated to putting the client's needs first. She is currently pursuing her Bachelors degree in Elementary Education.  With her strong desire to learn and teach, Maddie is excited to educate our clients on everything Pure Aesthetics has to offer.
Aubrey Tanner Client Coordinator
Aubrey was born and raised in Orlando but has always been a Gator fan at heart. She is happy to now call Gainesville her home while she attends The University of Florida where she is pursuing Bachelors degrees in Business and Psychology. Aubrey is passionate about helping others feel like the best version of themselves and is excited to pursue this everyday while working at Pure.